Branding • Custom Illustration • Photography • Signage Design • Menu Design
Right about the same time that Sidekick began its journey, a close family friend, Nate Germain, began his own incredible adventure of opening up his first restaurant. It was also our first official project, which made it that much more special.
Nate's passion for the restaurant industry began at an early age and has continued to soar. When he was young, he worked in a local family diner, and loved the close-knit atmosphere between his coworkers and the customers alike—a vibe that really stuck with him. Nate further explored his love for food during his time working for a large, national restaurant brand, where he began to really appreciate the relationship people have with quality ingredients. As his passion for food and the service industry continued to grow, Nate took business classes and spent time in culinary school, and has worked in various high-end restaurants in New York City. Taking these influences, combined with a strong vision of his own, Nate decided to create his own dining experience based on high-quality, local ingredients and a friendly vibe that makes you feel like part of the family.
Through this logo process, I've realized just how important family is to Nate—Malcolm was his late grandfather's name, and he wants to honor his legacy and give that casual feel of stepping into a loved family member's home. He came to me with family stories and heirlooms, old drafting sketches, and photos of Malcolm's own antique bottle collection that will be displayed at the restaurant. Needless to say, we could not wait to design the face of Malcolm's, knowing the family history and excitement behind it all.
It's impossible to miss the signature bottle of Malcolm's when strolling down State Street in downtown Schenectady.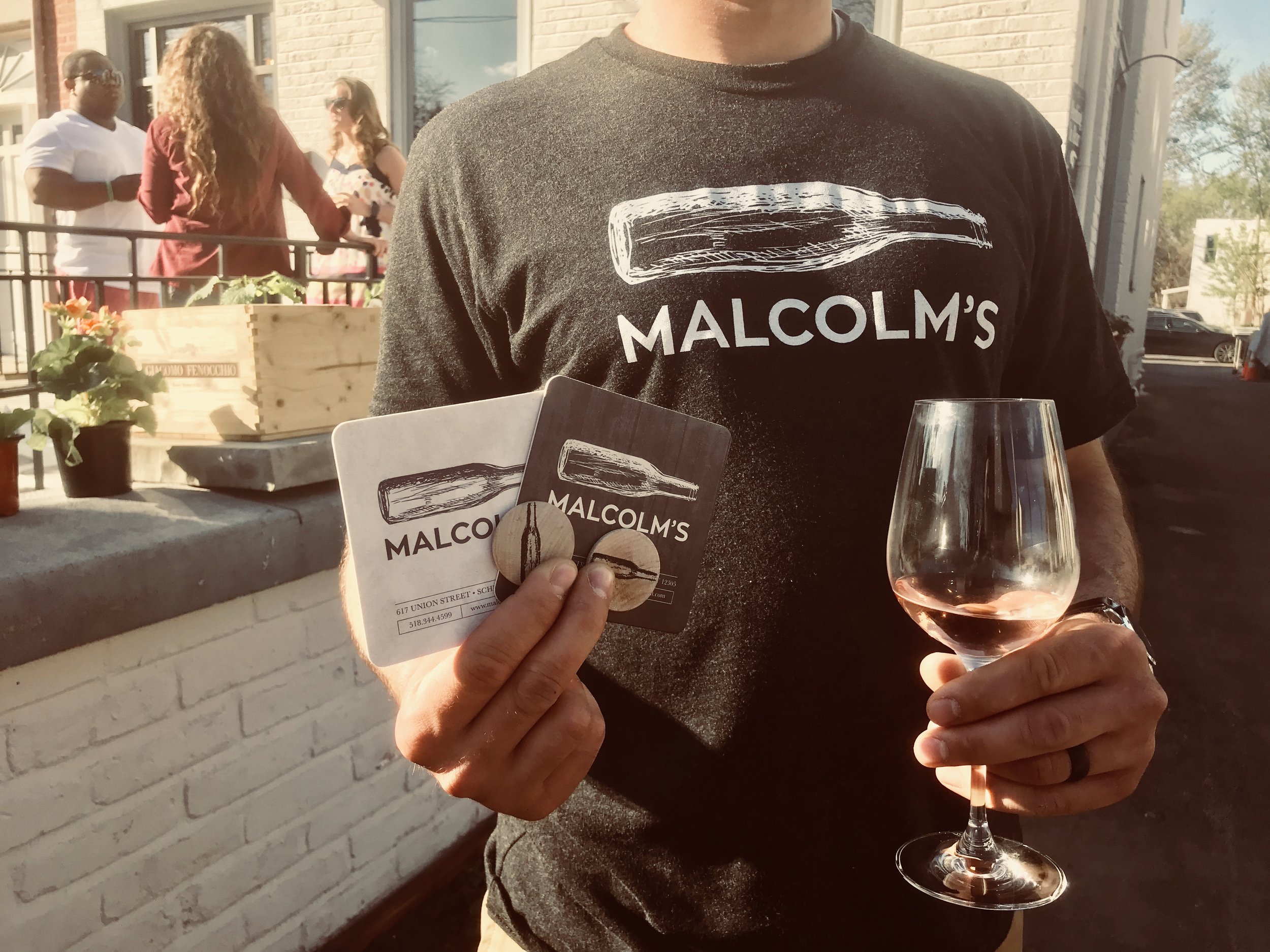 From t-shirts to aprons, coasters and gift cards, Malcolm's takes great pride in keeping every detail branded. Fun fact: the double-sided coasters, with one side light and one dark, are a sign to the waitstaff if patrons are drinking still or sparkling water for seamless service and attention to detail.

With a menu that changes on a nearly daily basis and the intention of eliminating paper waste, we designed a digital menu that is presented to each patron on a tablet.